HISTORY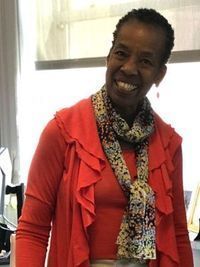 Madaha Kinsey Lamb President/Founder
The year was 1978 and Madaha Kinsey-Lamb, a former public school teacher, educator, and arts enthusiast who had once dreamed of starting her own school, found herself traveling with her 4-year old daughter on the #2 train to dance classes in Manhattan, because they were not available in their Bronx neighborhood.  Madaha was inspired by the rich arts environment she found, and excited by ideas of what it could mean if her culture and others could be included and affirmed as well - to create a place in the Bronx where children could explore and expand their sense of self and of a diverse community through dance, music, theater and more.
Starting on a Saturday in November, 1978 with just 3 modern dance classes for 45 students ages 4 to 14, parents paid $14 per month to cover the cost of a vibrant teacher and a large room rented from Crawford Memorial Church on White Plains Road. As waiting lists increased each year, larger spaces were found to rent, and the schedule of various forms of dance classes expanded to include classes for children, teens and adults in various musical instruments, voice, martial arts, yoga, theater, community folk culture research, and afterschool city-funded programs at three local public schools.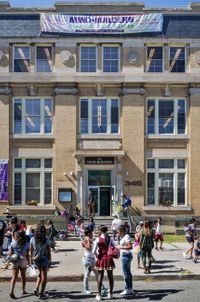 In 1984, with the waiting list approaching 300, Mind-Builders purchased an abandoned municipal building/yeshiva for $20,000 through the combination of cash raised and a one year bank loan that required the personal guarantees of a small board of dedicated parents, other community residents, and friends.  We raised funds to renovate two of the four floors of the building, and, in 1988, moved into our own facility on Olinville Avenue near the commercial hub of Gun Hill Road and White Plains Road. 
Mind-Builders Creative Arts Center grew into a neighborhood institution, with the motto of the early dream – "It takes a special kind of teacher to be a Mind-Builder, " with accessibility for all without regard to household income being an essential component, ensured by providing many free classes and scholarships, as well as affordable/sliding scale tuition, Work Exchange plans, and the support of government and private funding.
In 2010, we began a $9.1 million gut renovation of the interior building supported by a combination of funding from the Bronx Borough President's Office, the Bronx Delegation to the NYC Council and the Department of Cultural Affairs.  In January 2014 we moved back into our beautiful facility, with 4 floors of classrooms, dance studios, practice rooms, offices, reception and waiting areas and a café.  With this new space, Mind-Builders doubled the number of students attending arts classes, added a Pre-Kindergarten funded by the NYC Department of Education, and in the summer of 2020 added the Arts Passage Xpress program.  In October 2023 a complete renovation of the back yard, playground and outdoor performance space with funding from NYS Assembly Speaker Carl Heastie and former State Senator Ruth Hassel-Thompson was completed.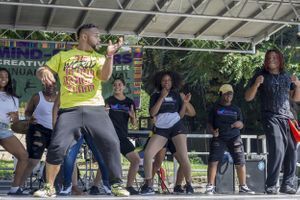 Today, led by Executive Director Shirley C. Taylor, Mind-Builders is much more than a nonprofit community arts center. It stands as a cultural institution, respected far and wide for empowering young people to express themselves, realize their full potential, and live dynamic and rewarding lives. Mind-Builders has remained true to its mission: "To inspire the growth of youth, families and the community through quality arts and education programs." 
Program alumni include Alimi Ballard, Gilbert Glenn Brown, Ayodele Casel, Nelson Chimilio, Andre Dell, Victoria Gabrielle Platt, and Javon Tyler-Graham.