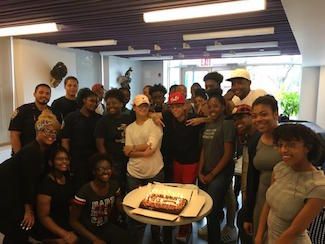 Mind-Builders Peer Mediation program is problem solving BY youth WITH youth. It is a process by which two or more students involved in a dispute meet in a private, safe and confidential setting to work out problems with the assistance of a trained student mediator under the supervision of Mind-Builders staff (Opal McCalla and Waldo Chavez).  The trained student mediators are members of the Mind-Builders Youth Leadership Council.
Types of problems include:
Bullying, minor assaults and fighting
Cheating and stealing
Classroom or extracurricular disputes
Racial and cultural confrontations
Relationship difficulties/harassment
Rumor and gossip
Social media improprieties
Vandalism
The goal of the MB Peer Mediation Program is to empower youth with the skills and strategies for dealing with conflict; Youth will develop communication and decision-making tools that influence choices in the future and increase their leadership potential; Youth will gain perspective and understanding of themselves, others and their issues.  Through peer mediation:  alienation, disenfranchisement and powerlessness that many youth feel will be reduced.